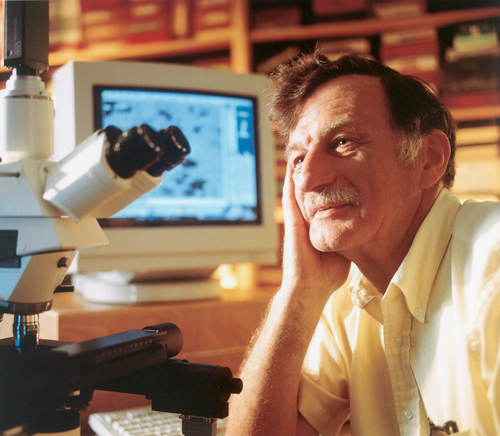 It is with great sadness that on June 6th, 2011 UC Davis and the greater neuroscience community lost Dr. Edward G. (Ted) Jones, who passed away while attending a conference in Los Angeles. Dr. Jones was the former director of the UC Davis Center for Neuroscience and has been an active and valuable member of the neuroscience community both at Davis and at other institutions. He will be greatly missed by family, friends, and colleagues.
Jones' work on the structure and function of the central nervous system was distinguished by enormous breadth and scope, both intellectually and technically. He has made seminal contributions to understanding the circuitry, cellular properties, and basic organizational plans of the cerebral cortex and thalamus, their development, functional interrelationships, plasticity, and pathology. He has received many prestigious awards, including the Cajal Medal, the Henry Gray award, and the Karl Spencer Lashley Award.
Ted Jones was born in Upper Hutt, New Zealand and received his M.D. in 1962 from the University of Otago. He earned his Ph.D. from the University of Oxford in 1968 and held teaching positions at both institutions before joining the faculty at Washington University School of Medicine in St. Louis, M.O., in 1972. In 1978 he became a US Citizen, and in 1984 joined the University of California as the chair for the Department of Anatomy and Neurobiology at UC Irvine. From 1988 to 1996, he led research on the brain at Japan's RIKEN science institute.
In 1998 Jones became the director of the Center for Neuroscience at UC Davis, a position he held until 2009. During his tenure as director, Ted also served as president of the Society for Neuroscience, contributed greatly to the Human Brain Project, and in 2004 was elected to the National Academy of Sciences. Although he officially retired in the summer of 2010, he passionately continued to pursue his research until his sudden passing.
Ted was 72 years old.
If you have pictures of Ted that you would like to share, please go to our Photo Gallery and email them to us. We welcome you to share your thoughts and reflections about Ted for the broader scientific community, friends and family in the comments below.